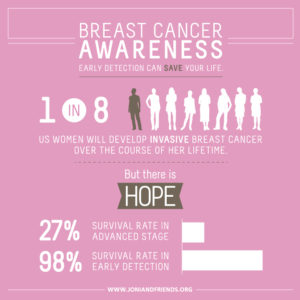 BREAST HEALTH AWARENESS: WHAT YOU CAN DO TO REDUCE YOUR RISKS. 
Take a good look at your diet. Cut back on fatty foods and increase fresh vegetables, especially cruciferous vegetables, broccoli, cabbage, cauliflower, and brussels sprouts lower the risk.

 

Consider weight loss if appropriate. Not only will this decrease breast cancer risk but will also reduce the risk of other medical conditions such as high blood pressure and diabetes.

 

Get up and move! Regular exercise helps with weight which can reduce your breast cancer risk by 18%. Don't smoke.

 

Be diligent in doing monthly self-breast exams. It is important that your let your doctor know if anything looks or feels different in the meantime.

 

Get annual mammograms. It is the best way to identify changes in the breast and early detection is essential to a cure.

 
For more information, click here.