Physical and Mental Health
---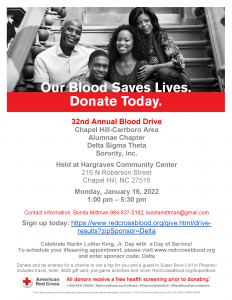 Please join us on Mon. Jan. 16th from 1-5:30pm!  Take a moment to sign up early! (link below)  Blood needs (especially black blood needs) are critical, and your support is vital!  We hope to see you on Jan. 16th! 
https://www.redcrossblood.org/give.html/drive-results?zipSponsor=Delta
Want to double your impact? Consider a Power Red donation. 
A Power Red donation collects the red cells but returns most of the plasma and platelets to the donor.  These donors must meet specific eligibility requirements and have a type A Neg, B Neg, or O blood.

2017 MLK Blood Drive
2016 MLK Blood Drive
Other Activities: