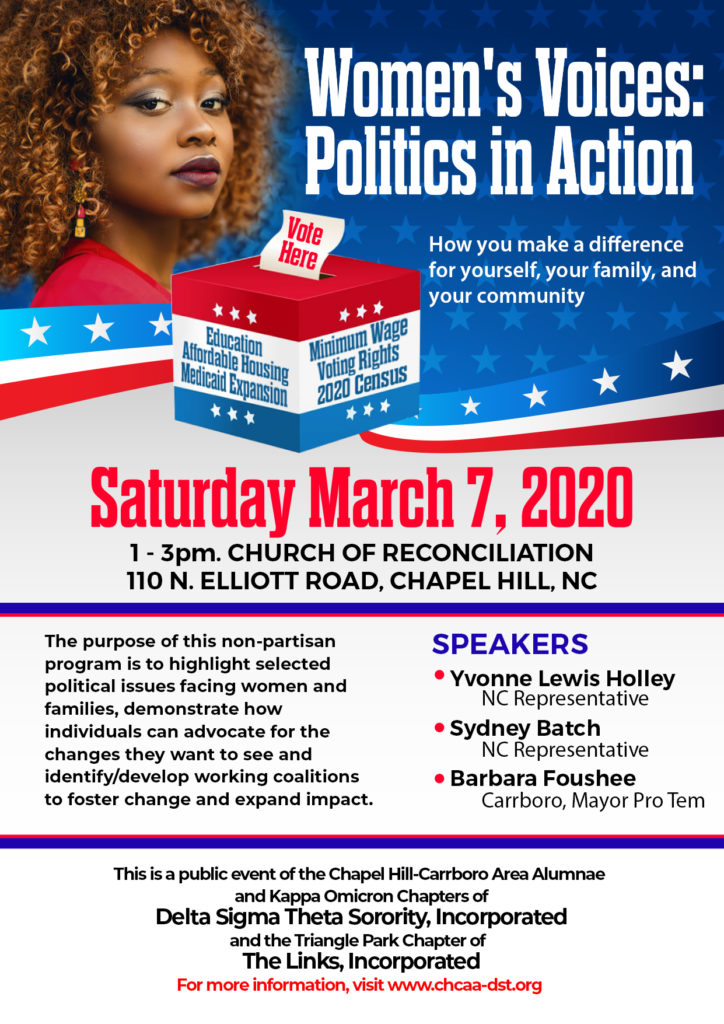 Please join the discussion "Women's Voices: Politics in Action" as we discuss the issues facing women and families and how to advocate for change. 
Our speakers for the event includes NC Representatives, Yvonne Lewis Holley and Sydney Batch, along with Carrboro Mayor Pro Team, Barbara Foushee. 
The event takes place, March 7, 2020, 1-3 pm, at the Church of Reconciliation, 110 N Elliott Rd., Chapel Hill, NC
This non-partisan program is a free to the public and hosted by Chapel Hill-Carrboro Area Alumnae and Kappa Omicron Chapters of Delta Sigma Theta Sorority, Inc., and the Triangle Park Chapter of the The Links, Incorporated. 
Meet our Speakers:
NC Representative Syndey Batch is a Holly Springs attorney and child welfare advocate. The law practice Batch runs with her husband is an extension of her advocacy for working families and people who get lost in the system. She has two school-age children and decided to run this cycle because she understands how important it is to have new leadership in Raleigh. Incredibly smart and hard-working, Batch could be the next speaker of the house.
Carrboro Mayor Pro Team Barbara M. Foushee is a Senior Technologist in a Molecular Oncology Laboratory in Research Triangle Park; she has spent her entire career working in laboratory sciences. She was elected to the Board of Aldermen in the November 2017 municipal election.  
Prior to her election, Barbara served on the Human Services Advisory Board where she was also Vice-Chair of that board.  Barbara has also served on the OWASA Board of Directors where she was instrumental in helping the utility to develop a Diversity and Inclusion Plan which has benefitted the employees as well as the communities that OWASA serves. 
Representative Yvonne Lewis Holley, educated in the Wake County Public School System, Yvonne is an advocate for education. Working her way through Howard University, she began a career dedicated to education, health, economics, youth development and political advocacy. Yvonne's heart for public service includes twenty-five years dedicated to working as a state government employee. 
Growing up she watched and learned from community leaders and her father, J.D. Lewis. Lewis was first African-American TV Broadcaster in the Raleigh/Durham market. 
One of the most notable accomplishments during Representative Holley's tenure in the NC House has been the extensive work to relieve Food Deserts in areas across the state.